Dear parishioners,
Spring has definitely sprung - all this abundant growth; all these shades of green. It seems possible to feel the earth breathing!! Such a support to us as we navigate this time of transition.
I've been thinking a lot about the idea of "treading lightly on the earth," that I brought up in my sermon on Sunday. The idea came to me through my parents; especially my mother, as she outlived my father by seven years.
Maybe it was because of the war, my parents were not materialists. They lived well below their income and were able to support their children in generous ways as we started out families. And they gave generously to those organizations whose work they endorsed.
What can two people do?!
Well, they raised five children with values that supported this idea of living lightly on the earth. We recycled before I had ever heard the word. We re-used more often. We preserved fruit from our backyard. We re-used and re-used wrapping paper, made our own gifts, and learned how to create things from "nothing."
Of course my childhood wasn't perfect, no childhood is, or is meant to be. But my parents instilled in me and my siblings a love of nature, care for the Earth, and a focus on relationships rather than "things." I have been truly blessed.
When my father died, my mother needed to move from their quite remote home closer to town. She decided buy land and to design her own home and have my brother, who is an internationally known green builder and author (google "Meror Krayenhoff" or "SIREWALL" to learn more), design and build it with her. Nothing in the house off-gassed toxins and it was built from earth and roofed with recycled tires made into shingles that look like slate. While more expensive on the building end, her maintenance costs were minimal. The house retained heat in the winter, and kept out the heat in the summer. There would never be a need to paint or do much upkeep. The house was also fire-resistant, bug/rodent resistant, and could withstand a substantial earthquake. When she moved in, my mother's health improved dramatically. She loved her new home – it was her big extravagance. And she revelled in the knowledge that she had created something with little impact on the environment that would outlast conventional buildings by a long shot. And she continued to live simply until the day she died.
Why am I telling you all this? Because in this time of the Covid-19 pandemic, I am looking deeply into the way I live. So many of my choices come out of my upbringing, but now I want to be more intentional and aware.
I am reading a book now called 'We are the Weather' and it's helping me gain clarity about what choices I can make and how those choices can make an impact.
What can two people do?
They influence, convert, or turn off others through their life choices. By the way the treat others and the earth. My parents have directly impacted their five children and 10 grandchildren, not to mention the people who have married into the family. Their legacy lives on.
And I can't possibly know or mention the strangers and friends who were impacted by their interactions with my parents. I know from the letters we received when each parent died that their impact reached wide. As it does for all of us!
So all this to say, it's time we take seriously our choices and actions and words. They all make an impact. Yesterday's Collect speaks directly to this:
Almighty and everlasting God,
who by the Paschal mystery established the new covenant of reconciliation;
Grant that all who have been reborn into the fellowship of Christ's Body
may show forth in their lives what they profess by their faith;
through Jesus Christ our Lord,
who lives and reigns with you and the Holy Spirit,
one God, for ever and ever. Amen.
What are you thinking about when this topic comes up? How do you show forth in your life what you profess by your faith? Do you want to consider what kind of footprint you would like to leave?
As Christians, we are always conscious of our impact and behaviour, because we know we participate in the Living Word. We know that people are converted more often because they are touched, inspired or challenged by the way people live, rather than words that seem pious or lofty or not relevant.
Well, I think I've just written a mid-week sermon! Thank you for bearing with me! I'm interested to hear your thoughts, responses, questions, concerns.
Shirley Bays sent a picture of the church where she and Alan were married.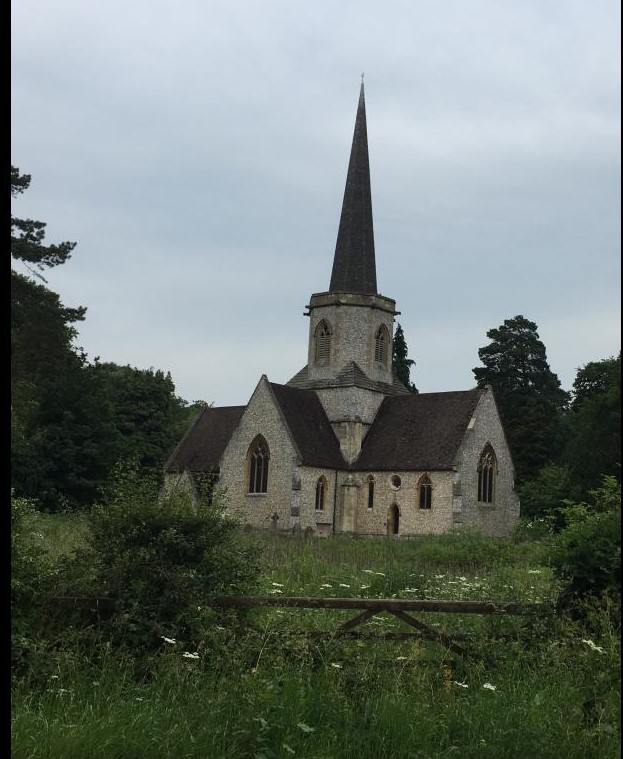 If you are spending time going through old photos and want to send a photo of the church where you were baptized, raised in, or married, send it along and we'll include it in an UPDATE.
And tell us where the church is!
Susan Down, editor at the Post, is preparing the next issue of the Diocesan Post, and she wants to include some news and reflections from around the Island/Gulf Islands during this time of isolation. Her deadline is April 25 by email to [email protected] These can be personal reflections (what are you doing/not doing and what are you missing because of the pandemic restrictions?) or other insights and opinions. Length can be from 250-500 words. Since this is for the June edition (the difficulty of a monthly publication printed in Toronto is the long lead time), it is hard to say what the situation will be then, but it is valuable to have a collective diary of sorts on how we were coping during this extraordinary time.
Photos would be welcome, too. Make sure they are high resolution (600 Kb or more) as the images that may look fine online don't always look crisp and clear in print. Thanks in advance for your submissions.
Heather Utley's been busy on the Memorial Garden…
Also please find some items to amuse or inspire you!

Check out the video below of a COVID 'Toilet Roll Run' from Selinde`s sister Helen...
...and this '10th Apple Effect' video from our very own People's Warden, Val

God bless you all!

Joy for your days,
In Christ,
Selinde

<![CDATA[cHZjYytiRGVDY2FVUWNQd2ZPelhURVNPQzlzaWx6VnpkdHRJRnM4elU0ek1LUGZDZ1Ura2dDd1hxdllZUksrSXl2b2xsajFzQmVIU0ZpczRPUFk5aGt6bm9BSXVMaUd1ZnFpdVRlMW9RdlY1V3lzNkVFRVVWaWtjaDJRS1hGRW84WFJveEZFRHFWeWMrNVpVWnRiNzhBPT0tLTR6d3JHaGZRUDdMR0dpc2VLMEgxYWc9PQ==--626f2649c2c954fa50cdc1f856911f7b0c48a557]]>