Wednesday Garden HUB meet-up

Dear Parishioners,
The geese are flying low overhead as I start to write you. We seem to be living under a bird flight route here in Shawnigan. The noise can wake one up at night. And it's a wonder to lie there in bed, hearing the movement of winged creatures through the heavens. Especially this spring, it seems to me, life abounds. Creatures are out and about, and being more still and in place, I am noticing. And feeling awe and gratitude.
I want to thank everyone for their support as I do what I need to do to recuperate from Covid. Because of some of the responses, I want to take a moment to reassure you that I am not ill; I am tired. And I need to take the time to rest every day to build up my strength. So, please, do not worry about me.
Earlier this week I was in Victoria for a medical visit. I really like this person. We always have such good conversations. She knows I've had the virus so she expressed concern. I spoke about all the benefits (read "blessings") of this experience. Her eyes teared up as she told me, "I can't talk to anyone about how much I have appreciated this time to reflect and change my life, people just want to dwell on the negative aspects of the pandemic." And she's obviously very concerned about those and is doing her due diligence as a medical professional. But she's having to travel less; the meetings she would go to around the globe are now done by Zoom and are "much more efficient and stunningly less expensive," she has more time at home with husband and dog, she sees fewer patients in order to keep her waiting room empty (I appreciate that as well!), the pace is more sustainable, and "I've discovered I have enough shoes!"
Another friend I spoke to this week dissolved in tears when she spoke about the state of world. She talked about an incident of hate and violence in the country to the south of us. "Every time I see that image, I fall apart." It occurred to me to ask her how often she watches the news. "I have the TV on all day," she answered. I suggested she might want to balance her taking in of disturbing news with some bible time.
I'm not suggesting we ignore what is going on in the world, but there's another world for Christians that exists and is not reported on in the news. So we must be careful to balance what we are ingesting!
And one more incident this week: I had a socially distant coffee with a friend in her back yard. In speaking with her, I realized how much I've changed during these past months. There was a disconnect between us I haven't experienced before. My perception of what is happening in the world is so different from hers. I need to find new ways of talking about my faith and my experience. My "old clothes" no longer fit.
Do any of these anecdotes resonate with you? How has Covid-19 changed you?
As we enter June, and warmer weather, we get closer to the time when we will start talking about opening up the church facilities. Are we going "back to normal," or will we take the opportunity to make changes? What have we learned; how have we grown?
Our Treasurer, Jennifer Birchall-Creighton, has been back from her winter home for a month now and has worked hard to bring all our books up to date. Please see her report to the parish attached.
When Sue and Will got married this past January, the parish chipped in to give them a wedding gift. That gift is not going to be realised, at least not in the foreseeable future, so we recouped the money and gave it to them. Here is the message from the e-card they sent to the parish:
Our hearts grow in overwhelming thanks for the generosity of our St. Mary's family in our wedding gift. It was such a lovely idea to give us tickets to the Chemainus Theatre, and accommodation to go with it! Unfortunately, this was just not to be, so in return for your thoughtfulness, we will be putting the money towards a trip somewhere this summer, whether it is a drive across the province and up the Rockies, or a BC Ferries trip up the coast to Prince Rupert and back down, or a combination of both, please know that your gift will be thoughtfully and carefully spent! We thank you all so much from the bottom of our hearts in helping to make this time of new commitment to each other ever so much better!
Blessings,
Sue and Will
Here are your June readings and the Readings for June 2020
Trinity Sunday June 7
Genesis 1:1-2:4a Psalm 8 2 Cor 13:11-13 Matt 28:16-20
June 14 Gen 18:1-15 Exodus 19:2-8a Rom 5:1-8 Matt 9:35-10:8
June 21 Gen 21:8-21 Jer 20:7-13 Rom 6:1b-11 Matt 10:24-39
June 28 Gen 22:1-14 Jer 28:5-9 Rom 6:12-23 Matt 10:40-42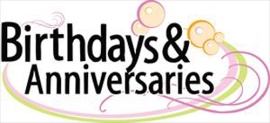 Birthdays/Anniversaries: Give a 'SHOUT OUT' to them!
Birthdays
Lynne D June 1
Shirley B June 3
Janet H June 14
Sherry A June 16
Heather U June 20
Jennifer B-C June 22
Mary T June 23
Cristina C June 25
Linda H June 25
Evelyne G June 28
Anniversaries
Shirley G June 7
Arlene & John O'B June 2
And a 'chuckle':