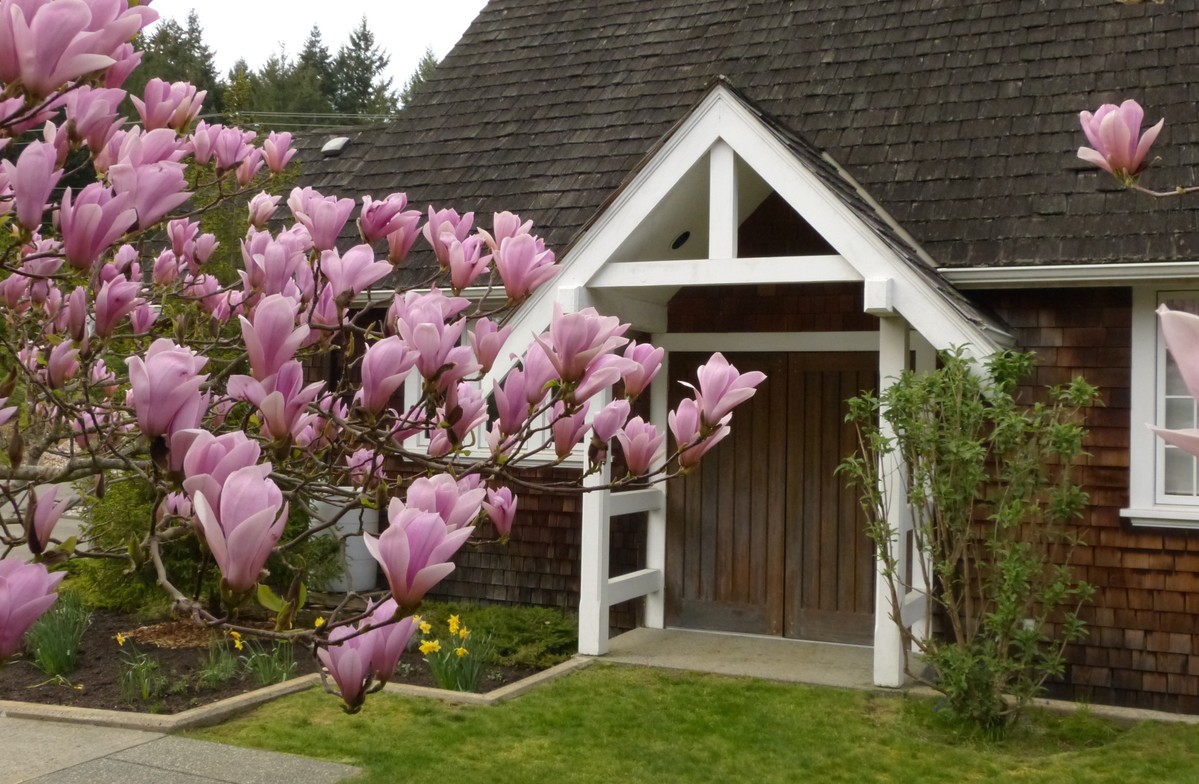 Gift Certificates – If anyone has any gift certificates they are not going to use and would like to donate to the church, we will use them in our fundraising efforts. Please see Shirley Hardy if you can help out in this way.
COMING UP THIS MONTH
Needed for Saturday's Bottle Drive and Yard Sale: salespersons and folks to do the recycling. A big thank you to all who have donated items!
Care Team Meeting Monday, April 8; 1:00pm with a presentation on the upcoming series in June/July on Family Caregiving.
HUB Lunch sign-up sheet. The same people are making the soup we enjoy week after week. Can we spread out the work between more of us? Consider signing up to bring soup once every month or six weeks. The sign-up sheet is by the Roster Board in the hall.
Wednesday April 10, 10:00 am Lenten Meditation in the Library at 10am " 10:30 Bible Study and Hymn Sing " 11:30 Free exercise Demo "FLO STRETCH" with Judie " 12:30 HUB LUNCH (Note later time) " 1:00 Wardens' Meeting
EXERCISE WITH JUDIE! Judie has been teaching fitness for thirty years. Her specialty certification is for Older Adults and Seniors. She likes to call it "Happier Aging." See full bio on bulletin board along with the full descriptions of each classes in the bright green and orange.*Judie's regular exercise classes would begin here IF enrollment is 13 or more. Every Monday & Thursday; April 15 - May 27. FIT & FUN CIRCUIT; 11:30am-12:30pm. FLO STRETCH; 12:45-1:30pm. COST: $108/person/class (incl. GST) Contact office to register before April 15.
Music Rehearsal for the Easter Vigil at St. Paul's is open to singers from St. Philip's, Lantzville, as well as St. Mary's, Nanoose so if you'd like to sing at the Easter Vigil, please head over to St. Paul's on Thursday April 11 at 7pm. The glass door off the parking lot should be open, if not, ring the bell beside it and someone will come to let you in.
Lasagna Community Dinner Monday, April 15; 4-6:00pm. Please sign up in the Hall if you can help out.
The Celebration of Life service for Jean Fowler, a long time parishioner who has been in care these last several years will be Sunday, April 28th. More details to follow
BEAUTIFUL Hanging Baskets, put your order in for Mother's Day by April 15th. The order forms are hanging on the bulletin board in the hall, outside office and in the office too.
Maundy Thursday Agape Meal and Service of Anointing in Holy Week (April 18, 4:00-6:00pm). Are you planning to attend? We would like to have an idea of numbers so please sign up in the Hall. As well, we need 6 women readers and 5 male readers. Again please sign up in the Hall on Sunday after the service. In addition, there will be the opportunity to contribute food to a Mediterranean Style meal – sign up list in the Hall.
Please note that the information on your yellow monthly calendar about Hilkka Bailey's burial service was included accidentally. This is private service for the FAMILY only. We will pray for Hilkka in church the day after.
COMING UP IN MAY
Get your tickets for the Spaghetti Cabaret this Sunday in the hall or in the office during the week. Only $20 for dinner and entertainment. Cash bar. Saturday May 4th, 5:00pm. Get your tickets from Shirley Hardy this Sunday!
COMING UP IN JUNE
Family Caregivers Series – presented by the Alzheimer Society. Thursday nights from 6:30 – 8:30pm June 13, 20, 27 & July 4, 11. A five-session series for family members who are caring for a person with dementia. Learn about dementia, practical coping strategies, and early planning. The Family Caregiver Series covers the following topics: Understanding Dementia, Understanding Communication, Understanding Behaviour, Personal Planning and Self-Care for Caregivers. Stay tuned for information.
COMING UP IN JULY
Please mark the new date for the Celebration of Summer at Shawnigan Lake School is Wednesday, July 31st. Same program.