From the Rector's Desk
I don't often brag about our garden, we really don't have very green thumbs. But this year we've been treated to a magnificent display from our "Bluebird" Lacecap Hydrangea bush. Most years its flowering has been quite ho-hum, but this summer is the best we've seen in the 12 years since we planted it. I take no credit, maybe the right combination of rain and warmth this year has produced this.
Looking at it reminds me of a praise song we sang in the eighties: Bloom, bloom, bloom where you're planted, you will find your way. Bloom, bloom, bloom where you're planted, you will have your day.
It's not a direct quote from scripture, but perhaps the author of the song was thinking of Psalm 1: "The one whose delight is in the Lord is like a tree planted by streams of water, which yields its fruit in season" Our hydrangea bush blooms every season in the place where it's planted. Some years the blooms are beautiful, other years not so much, but it just gets on with it, making do with the weather and whatever gardening care it gets. It demonstrates a kind of contentment with what it has, I guess, keeping its roots in the ground in all circumstances. Not a bad reminder for us to ponder.
As we look around us, near and far, there is much that may cause us to lose confidence in the future and feel like pulling up our roots from what has grounded and sustained us in the past. Out of fear, or despair, or disgust at brutal wars, scary climate change, pesky COVID variants, epic price inflation etc. we may question or withdraw our faith in God, in humanity, in the church, in each other.
Our gardens continue to bloom where they're planted as best they can, within their surrounding conditions, drawing on whatever resources are at hand. And we need to do the same. Look around you through a hopeful, thankful lens. Appreciate the blooms of summer. Pay more attention to the good news on TV or in the papers, and skim over the bad news. Remind yourself of what is good in your life. As people of faith we blossom and bloom where we've been planted, and we keep on blossoming regardless. We appreciate and use what we have, rather than despairing over what we don't have. Paraphrasing the psalm, we delight in what the Lord has provided, and that produces fruit in our lives. Some seasons the fruit is plenteous, others not so much. But we remain planted and rooted in our faith. As the song puts it, bloom where you're planted, you will find your way.
With every blessing,
Alan
SAFE CHURCH TRAINING AT ST. MARY's
The Safe Church program provides training to clergy, employees and lay volunteers to ensure our churches are places of safety. Our diocesan policy requires that certain volunteers and leaders receive some training every five years, either in person or through an online video platform, which is used by all the dioceses in BC and the Yukon. Depending on the position, between four and eight topics/videos are required to be covered by each individual.
At St. Mary's, several of us are due for retraining as our five years are up, and others are nearing that point. As an alternative to viewing videos and answering questions online, which is quite time consuming, we have diocesan permission to hold a half-day workshop in which all of the key points of the safe church program will be communicated and we will discuss any questions together. This workshop will be held on Saturday, August 27, 2022 9:00 a.m. - 1:00 p.m. in the church hall.
Our Safe Church Liaison person, Val Davies will be in touch with those who need to renew their training, or are close to it, to invite you to this workshop. It is also open to any others who are interested in learning more about keeping people safe in our church and also in our community. More information will follow. This is an important priority as we care for each other and demonstrate to our community the church's commitment to being a safe place for all.
Save these dates...
Two social gatherings after the church service:

Sunday, August 14th - St. Mary Matronal festival ('make your own bunwich' lunch)
Sunday, October 9th - Thanksgiving pot-luck lunch
OUR NEW READERS ROSTER is in need of YOUR HELP AGAIN
Please sign up on the NEW roster at the entrance of the church. Or you can also put your name on the READERS ROSTER WHITEBOARD located by rector's office in the hall.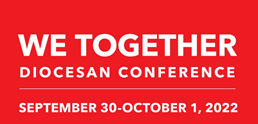 We Together 2022 is our diocesan biennial family reunion at St. Paul's Anglican Church in Nanaimo. It's an opportunity to reconnect with old friends and a time to make new ones. Together we will learn about, pray about and share what God is up to in our lives, strengthening ourselves, as the diocese of Islands and Inlets, for the journey God is calling us to. The theme of this year's conference will be "Here in This Place" where we will be exploring questions of what faithfulness looks like in these islands and inlets.
To learn more about this event and register, please visit the diocesan website
THIS MAY INTEREST some of you . . . FREE Summer Fiddle Concert in Nanaimo
Friday, August 5, 2022 at 1:30 (lasts for one hour) Indoors, rain or shine. At Trinity Catholic Church 6234 Spartan Road, North Nanaimo (off Metral Drive, across from Superstore Entrance)
This is a casual, fun, summer, all-ages fiddle concert to conclude the summer Nanaimo Traditional Fiddle Camp Week. There will be fiddle kids, fiddle seniors and everyone in-between. Come along and enjoy this toe-tappin' Celtic, Quebecois, Cape Breton fiddle music with reels, jigs and waltzes. Please wear a mask. We anticipate the venue to be about half full. No need for reservations.