FROM THE DESK OF THE RECTOR
Last week, Elaine posted the following on the Wayside Pulpit after the terrible flooding created a sinkhole on the highway south near Lantzville. You may have been involved as traffic slowed to a crawl to take the detour round it.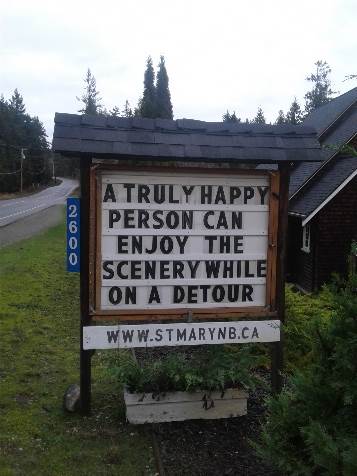 Detours are interesting things. They force us out of our comfort zone; out of what is familiar. As the sign on the Wayside Pulpit suggests, detours are opportunities to wake up, to observe, to think differently. And detours can change our lives – what we experience on the detour may take us in a new direction – we don't get back on the familiar road ever again.
For me, my experience with the long lasting effects of COVID took me a different way than I had intended. My body told me I had to slow down so I went on wellness leave. And that time off changed me. I began to live life at a slower pace and that felt right and good – more sustainable.
COVID has changed the world. It has changed us. And we won't be going back to "normal" as much as we would like to. For young children this IS their normal; they've known nothing else, or can't remember anything else.
I encourage my sons to engage with life, not to wait. People continue to fall in love, get married, pursue careers, have babies…. basically live life as best they can, given this new reality.
When the people of Israel were sent into exile, making the long trek to Babylonia the prophet Ezekiel encouraged the people to settle down there, make homes, build community, have families because he knew it would be a long time before they could return home (and it was their descendants who were finally able to return – to a home they had never known and one that was vastly changed).
How can we encourage each other to inhabit this new way of life in ways that are different, yes, but good?
How are you adapting to life under the pandemic?
This is not a detour. Because we've been on this road a long time already, and will probably be much longer. We are being changed as we adapt to this new road, which is becoming somewhat familiar…
Advent is a time of waiting. Not passive waiting, but active waiting. Waiting with our eyes, ears and hearts open – looking for the light in the darkness and the guide who has come, is coming to walk with us to freedom.
This Second Sunday in Advent is focused on PEACE. God's peace is available to us always. Even when there is turbulence all around.
Lord, give us your peace. Let us be your peace. Peace in our hearts, our homes, our church, our world.
Come Lord Jesus Come.
Selinde
SIDESPEOPLE NEEDED Are you a people person…or aspire to more of a people person! Or maybe you want something to do prior to the Sunday service greeting our "peeps". This is an easy, stress-free ministry with training. Call Sue G for more details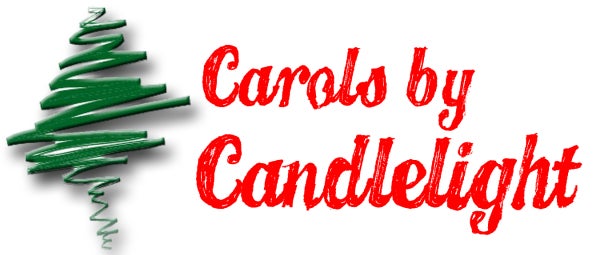 Carols By Candlelight will be recorded in front of the families of the young performers and available for your viewing any time after December 15th. We have a special program lined up for this year. KAT will send out the link in an email on Dec 15th. It will also be available through our website. Feel free to share with your friends and family. And enjoy!!
NCS Christmas Elf Tree
The Christmas Elf Tree is set up and is adorned with gift wish tags again this year. Donors can pick a tag, buy a gift and return it to the tree in our hall before December 10th. This special gift will bring great joy to a neighbour's child or a senior in our community.
Some busy elves put together 125 little gift bags for the staff in the ICU at Nanaimo Regional General Hospital on Monday. Thank you to everyone who donated to the project. Delivery date is tomorrow.
Along with the goodies a bookmark was attached which reads:
"Many of us at St. Mary's have showed up at your door for medical support and treatment.

We are keenly aware of the stress you are under during this pandemic and we're concerned that you haven't heard a balancing voice in these past months.

We want to take the opportunity NOW to let you know how much we appreciate your dedication to caring for those with COVID-19 and their families.

We realize you put yourselves at risk and that the strain is enormous.

To that end, we want to make a little difference and lift the load if even just a tiny, tiny bit. So we say: THANK YOU FOR ALL YOU DO.

We're praying and rooting for you from the shores of Nanoose Bay.

Stay well and know that we notice what you are doing for our friends and family, our community, and our province.

With heartfelt gratitude,
The parish family of St. Mary Anglican Church, Nanoose Bay".
THE 2022 WEEKLY OFFERING ENVELOPES ARE READY FOR PICK UP THIS SUNDAY AT THE BACK OF CHURCH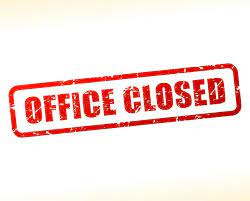 Our office will be closed from December 28, 2021 to January 4, 2022.
DECEMBER BIRTHDAYS
Dec 1st Mattieu C
Dec 4th Shirley G
Dec 13th Anne Marie H
Dec 18th Al H
Dec 29th Maria S
ANNIVERSARIES
Dec 6 th Marg and Ray D
Dec 29 th George and Marrianna W
READINGS DECEMBER 2021
December 5, 2021 - 2nd Sunday of Advent
Baruch 5:1-9
Luke 1:68-79
Philippians 1:3-11
Luke 3:1-6
December 12, 2021 - 3rd Sunday of Advent
Zeph 3:14-20
Isaiah 12:2-6
Philippians 4:4-7
Luke 3:7-18
December 19, 2021 - 4th Sunday of Advent
Micah 5:2-5a
Psalm 80:1-7
Hebrews 10:5-10
Luke 1:39-55
December 24, 2021 Christmas Eve
Isaiah 62:6-12
Psalm 97
Titus 3:4-7
Luke 2:8-20
December 25, 2021 Christmas Morning
Isaiah 52:7-10
Psalm 98
Hebrews 1:1-4
John 1:1-14
Elaine Cowan has the pumpkins from Thanksgiving. If anyone wants one or all of them, they will be at the church on Sunday for pick up. Otherwise, her "girls", aka her chickens, will get them!
IF YOU KNOW SOMEONE WHO WANTS TO HAVE AS MUCH FUN AS KAT DOES DOING HER JOB, SEND THIS ALONG TO THEM! St. Philip-by-the-Sea in Lantzville is seeking an office administrator for 10-12 hours a week, and in-person is negotiable. Duties may include weekly bulletins, community bookings and other administrative responsibilities. Must be fully vaccinated. Please contact Heather 778-936-0606, or incumbent@stphiliplantzville.ca for more information.