Note from the Rector
Last weekend I attended a women's networking event that a close friend was hosting. Now, this isn't the sort of thing I would normally go to, but because she asked me, I went along to offer her support and encouragement. I was one of about 45 women at this event; there were snacks, drinks and conversations and people promoting all sorts of small business endeavors. As such, when meeting these women, all of whom I had not met previously, the first question asked was, "So what do you do for a living?" I am sure you can imagine that when I told them, "Well, actually – I'm an Anglican Priest in Nanoose Bay," people's responses and reactions were all over the map! Some people were fascinated and asked all sorts of follow-up questions, while others showed slight concern and skepticism. And one woman actually stared silently as her eyes widened and mouth fell open before backing away without another word.
This was the first time I was in a situation with people who didn't know I was an ordained priest, and the responses got me thinking about how we as Christians are seen in the world. I have always felt that my calling was to make the grace and love of an invisible God visible on the world, but this was really challenged at this event. I wondered about the woman who walked away, and how she made a point of avoiding me for the rest of the evening despite my attempts to make further conversation with her. I wondered what prompted such a stark reaction and if perhaps she had been hurt by the church at some point. I suppose I'll never have the answer, but I really wondered what do others see in me when I tell them I am a priest, or when we say we are Christians?
It is a curious thing to ponder, but something that is worth sitting with, as in our daily living we meet so many people and for some we may be the only chance they have at seeing God in their day. We know that we are created in God's image, and through our lives we reflect that image into the world in unique ways. Sometimes we will come across others who have been hurt or ignored by 'church people,' and it can be hard when our good intentions to love others are thwarted by past negative experiences. But somehow we just need to keep on shining, to keep on loving and living knowing that God is there in our midst. Even when things get uncomfortable or people walk away, I hope we never shy away from claiming who we are as followers of Christ and being God's love in the world.
Connecting with Rev. Kirsten
Kirsten is in the office most weeks during regular office hours and is available for home visits or conversations in the office. If you have any questions or concerns or simply would like a visit please do not hesitate to reach out to her. She can be reached at incumbent@stmarynb.ca, in the office Tuesday, Wednesday and Thursday at 250-468-5684 or on her cell.
Holy Week Activities
Saturday April 1 @ 10am – Palm cross making in the hall with Marrianna
Sunday April 2@ 10am – Palm Sunday Service with procession to the church
Thursday April 6 @ 5pm – Agape Meal and Maundy Thursday Service
Friday April 7 @ 11am – Stations of the Cross and time for prayer
Saturday April 8 @ 10am – Easter Sunday Church Decorating
Saturday April 8 @ 7:30pm – The Great Easter Vigil (at St. Paul's Nanaimo)
Sunday April 9 @ 10am – Easter Sunday, Flower cross and Baptism of baby Athena
Easter Sunday – Wine is coming back!
We are looking at bringing back wine for all who want to receive at communion on Easter Sunday and therefore we will be needing a few people to step in over the coming weeks to be a chalice bearer at the Eucharist. If this is something you might be interested in, please speak to Rev. Kirsten!
Adopt-a-Flower-Bed at St. Mary's
Help us bring our flower beds back to life! Speak or call Harry C. or Don N. as they would love to have a conversation with you.

New Photos of Parish Council
KAT will be updating the Parish Council photo board from the church entrance in the few weeks. If anyone wants a new photo, please see KAT on any Sunday or stop by the church.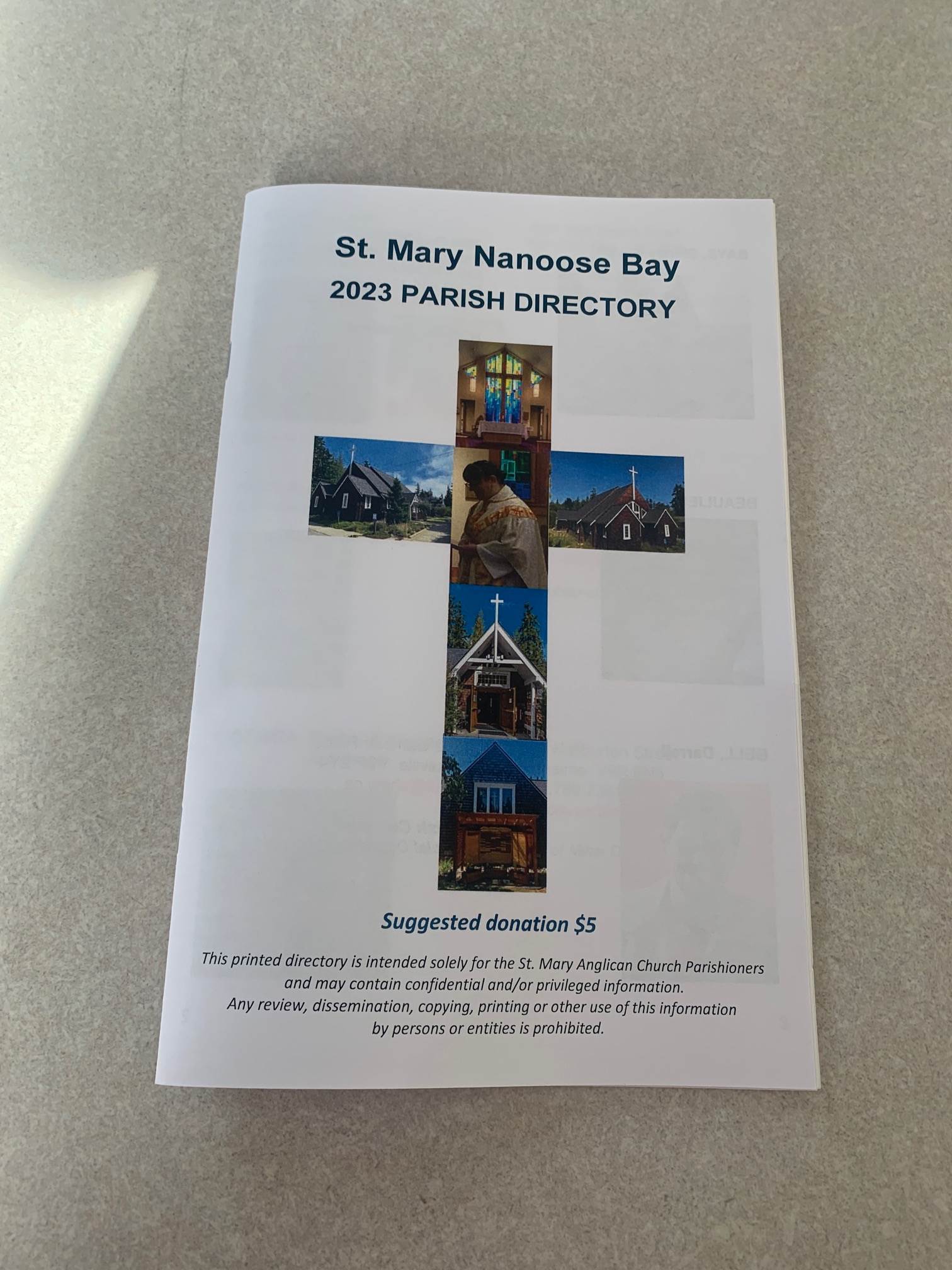 NEW 2023 Parish Directory
Yes, we still have some. They are really handy to have at home or in the car. Suggested donation only $5 to cover colour printing costs. Pick up in the office or even Sunday if you see KAT around.
2023 FUNdraisers at St. Marys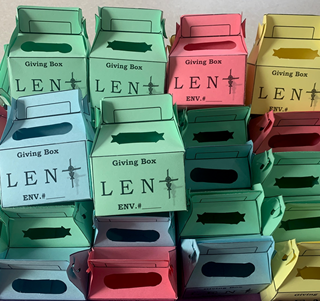 Don't forget about the little Lent Givings Boxes
as we go through the season of Lent. We will collect the boxes on Palm Sunday and bring them to the altar as an extra part of our regular offerings - so start collecting those loonies and toonies (even if they are adding up in a tally) and let us see what we can give to help our church.
'You've been EGGED' Easter campaign

Look for poster this weekend! Thank you for the orders so far. Please talk it up to your family and friends! Only $10 gets a bag or basket of Easter goodies that will put a smile on your family and friends' faces. They will be hand delivered by a SPECIAL BUNNY (yes, with ears) the week prior to Easter. Bring your money and delivery addresses to church March 26 or April 2. See Marg or Elaine for more details.
June Jumble (JEMS) & Christmas Fair
Please start saving all your treasures. Contact Marrianna if you need more information.
Spring Women's Retreat April 21-22
Participate in a more intimate walk with the Divine. Discover different ways to open your heart and experience God's presence in your life more fully. The facilitator will be The Reverend Selinde Krayenhoff, who will be joined by The Reverend Elaina Hyde-Mills as spiritual leader. If you do not want to billet then you can attend Saturday only for $130. That includes lunch and dinner with a Eucharist celebration with Selinde. Coffee/muffins 8:30 am, first session 9:15. Day ends approximately 8pm. Mary Holte and KAT are planning to carpool. Deadline is April 10, 2023. See registration form attached below.
There is a job opportunity for a part time Parish Administrator role at St. Paul's Nanaimo. It is a 15 hour per week position. Here is the link with information: https://www.stpaulsnanaimo.ca/news/job-posting
Thank you!
The Venerable Clara E. Plamondon
Incumbent, St. Paul Anglican Church Nanaimo BC
www.stpaulsnanaimo.ca (O) 250 753-2523
Archdeacon – Cowichan/Mid Vancouver Island Region