A MESSAGE FROM SELINDE:
Dear Parishioners,
I have been on the receiving end of so much love and care! I want to thank each one of you who sent me a birthday card or message for my 65th birthday last week. I was overwhelmed and touched and I felt very well celebrated. My recovery continues with its ups and downs, but all moving in the right direction. I consider my leave as a Sabbath time – it's a rich time of inner peace, ease and expansion. Thank you for your support, And I look forward to being back in community with you as soon as I am well.
God bless! Selinde
The AVM Minutes are attached for your review. Any questions or concerns, please contact Elaine or Val.
A Message from your Treasurer
On February 21 we had a very successful Annual Vestry Meeting. KAT, our Office Co-ordinator was very instrumental in organizing and navigating the 45 participants through the ZOOM meeting, with Alan efficiently chairing the meeting.
A proposed budget for 2021 was presented for approval, which was was passed unanimously. I thank the Finance Committee for all their hard work in preparing the budget. This was very challenging given the unprecedented year we experienced due to COVID-19.
Not everyone was able to attend the meeting via ZOOM but all the documents for the AVM were emailed to everyone. A request was made to have any questions or concerns emailed to the Treasurer prior to the meeting or presented at the meeting. Given that no questions or concerns were raised, it is assumed the budget as presented received no objection.
For the month of February, the total Envelope Offerings were $700.00. The average budgeted monthly amount for Envelope offerings is $4,836.00
For the past two months there has been more than a significant reduction in Envelope offerings. This is more than concerning. I appreciate that the Church is not open due to COVID and it is difficult to get the Envelope Offerings to the Church. However, the Church still has operating expenses, i.e. Hydro, Shaw telephone/internet, staffing, and musician to name a few.
I welcome any suggestions you may have on how we can more efficiently receive your offerings for the Church in a more timely manner.
Blessings, JBC
Care Team meeting: 10:30 on Monday, March 8 by Skype
Parish Council Meeting: 10:00 on Wednesday, March 10 by ZOOM
A BIG THANK YOU TO FRED HENTON for his tireless work on the Pet Memorial Garden sign that clearly shows the way and is now complete and installed. Because of the wood species, he has sealed and coated the wood below ground so it should last for a good number of years.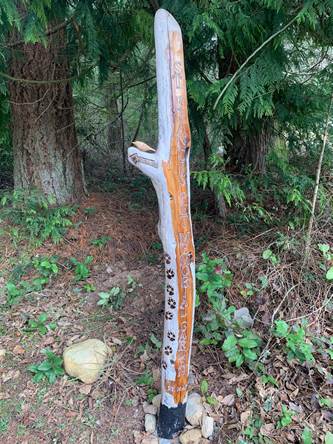 The little bird and tiny pawprints are so cute. A job well done!
THE READINGS for this Sunday, the Third Sunday in Lent, March 7, 2021:
Exodus 20:1-17
Psalm 19
1 Corinthians 1:18-25
John 2:13-22
Mary Holte shared the following God Whispers video for your enjoyment.