FROM THE DESK OF THE RECTOR
Hear O Israel
The Lord our God, the Lord is One.
Love the Lord your God
With all your heart, with all your soul, with all your mind, and with all your strength.
This is the first and great commandment.
The second is like it:
Love your neighbour as yourself.
There is no commandment greater than these.
We can read this prayer, called the Schema, as a call to good and moral behaviour.
We can also read it on a deeper level, a perspective from where we understand how profoundly interconnected we are. In the Body of Christ, when one part of the body hurts, the whole body hurts. Each part of the body is essential, each beloved, each of equal value.
As members of this One body, our thoughts and actions affect the whole. So try reading the following with this understanding:
Harsh words can make you feel powerful,
But remember that those words go through your own heart.
The more you awaken in the body,
The more it feels unbearable
To allow toxins through your own heart.
C. Ardagh
There is such harshness in the world now. Such polarization, so much demonizing and demeaning of one another. The pandemic initially brought out the best in people. Now, it seems to be doing the opposite. And it's not the pandemic's fault. The little virus is just doing what is its nature to do - flourish. It's up to each of us to choose how we are going to live through this time. How we might flourish in spite of the limitations put on us? How are we going to respond to the challenges at hand? For when the crisis of the pandemic is over and we have adjusted to life with COVID (much like we have done with the flu), we will be left with the repercussions of our behaviour during the crisis.
Just as it was after WWII, or any war, people had to come to terms with how they had behaved under terrible conditions.
So it is now.
How are we doing? Are we only concerned about ourselves? Are we able to listen to people who have different views? Are we blaming our struggles on other people?
As Christians, we need to dig deep and find a different response to the world than what we see on the news where an increasing number of people seem to be ready to kill each other for their differing views. People have abdicated responsibility for their own lives by blaming everything on the pandemic, and how others are managing their way through. This is not helpful.
We are called to find the true and compassionate way through. After all, Jesus didn't hang from the cross and instruct us to seek out and kill those who put him there.
Forgiveness is hard work.
And it is ours to do.
Let them know us by our love.
Let God's will be done.
God bless you all,
Selinde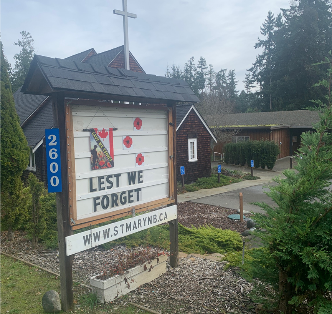 Remembrance Day is on Sunday November 14th in church, and on Thursday November 11th at 11:00am in the Memorial Garden. Many thanks to Marg for the artwork and poppies!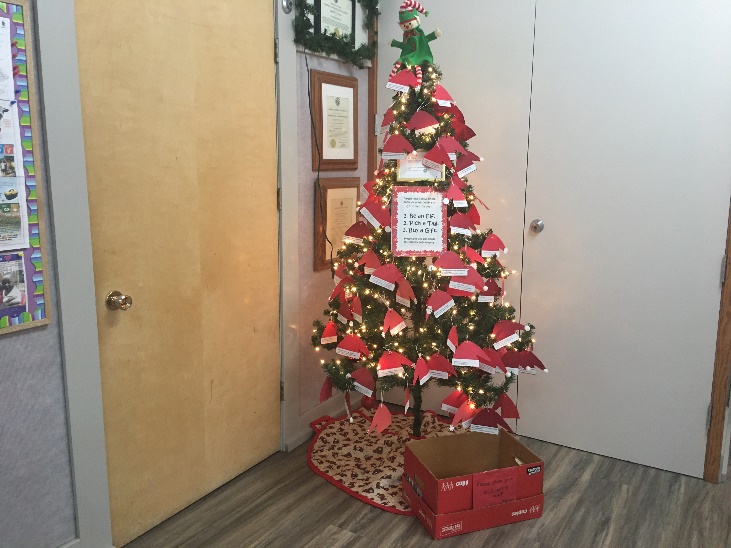 NCS Christmas Elf Tree
The Christmas Elf Tree is set up and is adorned with "gift wish" tags again this year. Donors can pick a tag, buy a gift and return it back to the tree in our hall before December 10th. This special gift will bring great joy to a neighbour's child or a senior in our community.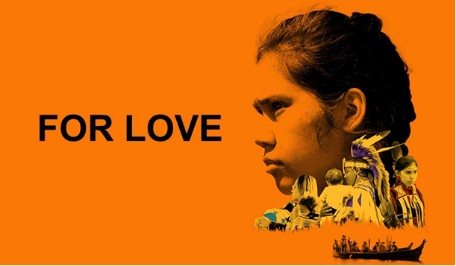 The Port Theatre in Nanaimo is holding a FREE screening event of FOR LOVE, narrated by Shania Twain, on Wednesday, November 24th, at 6pm. It is 1 hour and 20 minutes long. Tickets are FREE but must be reserved beforehand. Click on this link for more information.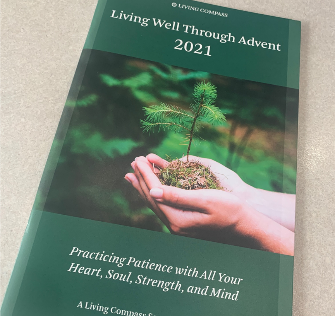 ADVENT 2021 SERIES
A limited number of Living Well Through Advent booklets have arrived. A donation of $2/booklet would be greatly appreciated. The booklets guide you day by day through Advent. They can be picked up at the office on Tues, Wed or Thurs.
READINGS AND PRAYER ROSTER
Yes, the new roster is still VERY EMPTY! Please, pretty please put your name on the roster for November and December dates. It really helps reduce KAT's stress level immensely