Don't forget to turn your clocks back one hour this weekend!
FROM THE DESK OF THE RECTOR
"May today there be peace within. May you trust God that you are exactly where you are meant to be. May you not forget the infinite possibilities that are born of faith. May you use those gifts that you have received, and pass on the love that has been given to you. May you be content knowing you are a child of God. Let this presence settle into your bones, and allow your soul the freedom to sing, dance, praise and love. It is there for each and every one of us." ~ St. Teresa of Avila
While some of you were in church with Rev. Alan Naylor this Sunday, Jim and I were celebrating our 39th wedding anniversary. We spent 4 days at our cabin on a remote gulf island. As we have been doing since 1994, we left our truck and boat trailer in the parking lot at the boat ramp in Chemainus and headed out in our 16' aluminum boat.
When we left on Saturday, we travelled under sunny skies and with some wind. We enjoyed 2 sunny days and 2 rainy ones. We had burn piles (and hotdogs to roast), played Scrabble, read, and just relaxed and enjoyed each other's company. When we returned yesterday, it was in the pouring rain. That doesn't bother us. Big winds do. So we were dressed in raingear from head to foot, but even so, got pretty wet during the ½ hour trip. But no worries, our home is only a 15-minute drive from the boat ramp. We could dry off and warm up soon.
I was holding the boat at the ramp while Jim went to get the truck to back down with the trailer. I heard him start the motor. What a sound! I knew something was wrong. And I thought I knew what.
Just last week I'd been talking to my sister who lives in Oakland, California. She told me about the rash of thefts going on in her neighbourhood. Thieves were stealing catalytic converters from people's vehicles in broad daylight to sell the metals for substantial cash. Some neighbours had been hit more than once.
What to do?
Well, I called one of the church wardens at St. Michael and All Angels, the Anglican church in Chemainus and he graciously allowed us to park the boat in the church parking lot. And then he offered to come from a neighbouring town to pick us up and drive us home. I asked to put that offer on hold.
Then, finally, the tow truck arrived and the young man confirmed our suspicion. The thieves had done some serious damage. Cam, the tow truck driver, offered to drop us home. On the way, we came across an accident on the highway and he stopped to offer help. None was needed so we went on our way. I told him he was like a highway angel, and he said, "yes and no," and when I probed a bit further, he confessed that his last day on the job would be at the end of this week. He'd seen too much death and suffering and couldn't take it anymore. I would think he was maybe 30 years old. I'm guessing he had PTSD. He dropped us off right at the bottom of our driveway.
Jim and I walked up to our tiny house on the hill that was warm and cozy. We cobbled together something to eat and sat talking for a good couple of hours.
Yes, we had been inconvenienced, but very little in the scheme of things. We never lost our cool and wonderful people offered us all sorts of help and support. We had arrived home safely. And we may be out of pocket, but probably not with our insurance coverage.
St. Teresa of Avila puts it in a nutshell. We can't pretend that frustrating things won't happen; that there isn't pain and suffering. But wherever we find ourselves, there God is as well. If we can stay open, we will find the support we need in ways we might not expect. In all circumstances, we can work to keep our hearts and minds open. We can share loving words and compassionate gestures. We can find goodness in everything.
This little incident is not a big deal. But it has been another big lesson for me. Can I find that peace that passes all understanding in every situation? Can I be open to how my help will arrive? I want to learn how to be thankful in all situations. And live in that place. As much as I can.
Never a dull moment; never a wasted experience.
Thanks be to God.
Selinde
Remembrance Day is on Sunday November 14th in church and on Thursday November 11th at 11:00am in the Memorial Garden.
IT'S NOT TOO LATE FOR A MONTH OF PRAYER
Coming up for the month of November, on Tuesday and Thursday mornings at 9am, you are invited to join in Morning Prayer from the BAS (the green Book of Alternative Services that we have in the pews) with Selinde over ZOOM. If you don't own a BAS, you can pick up a xeroxed copy of the BAS Morning Prayer format at the office or when you come on Sunday morning. It's helpful to have a bible at home to access the psalms and Gospel reading, but not essential. Morning Prayer takes about 15 minutes but it might be as long as 30 minutes as we will sit in silence for 5 minutes, pray for the needs of the community, and if desired, reflect briefly on the Gospel reading assigned for that morning.
We will begin tomorrow morning, November 4th. The invitation will come to you the day before each Tuesday and Thursday so you can join in as you can. You need only click on the link in the email.
If you do not know how to use ZOOM, please let KAT know and she will send you an instruction sheet.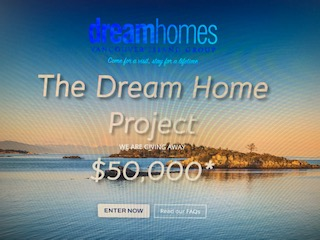 Karen Kenyon is the local realtor who graciously funded the filming of our buildings and grounds recently.
Teresa Sandiford says:
Dear friends, my friend Karen Kenyon, a local realtor, is giving $50,000 to a first-time home buyer in our area whose story is deemed the best by a panel of judges. Go to https://thedreamhomeproject.ca/ to find out the details.