From the Rector's Desk
Dear Friends,
What a time of year it is, with new growth in our tended gardens as well as the natural environment. The magnolia tree outside the church's side door was about to burst into full bloom last week - but it's not quite there yet - especially after being surprised by the snow on the weekend!
So it is for us as we step through this Holy Week - waiting and expecting a joyous Easter celebration - but we're not quite there yet. Rather like children, we need to count the sleeps till Easter and acknowledge what comes along with those sleeps. We still have Maundy Thursday, Good Friday and Holy Saturday to step through. An Easter celebration makes little sense without commemorating the events that led up to it.
The Last Supper… the arrest and trials… the violence… death… and burial.
And then comes the Holy Saturday silence. Let's not underrate the importance of Holy Saturday in those three days leading up to Easter. In the biblical narrative it was a day in which "what now?" was the over-riding question for Jesus' devastated followers. It's also a huge question for us here at this time. What now? - as the pandemic (please God…) recedes. What now? - as we go deeper into the interim time between rectors. What now? - as the parish faces a financial challenge? And in our own lives, "what now?" is an important question as we move forward in whatever personal situation we face.
For those in the first Holy Week, the surprising answer to the what now question was "resurrection." A whole new purpose and direction that most did not see coming. More about that in the coming weeks! For us it is much the same. We too may be surprised by the answers to our "what now" questions which we did not see coming.
By next week, that magnolia tree at the church will be in full bloom just in time for Easter. That much we know for sure. But what we may not be sure about is the outcomes to all the other questions. So, in the spirit of Holy Saturday, we watch and wait in the silence, keeping vigil, knowing there is hope and that we can expect great things in the "what nows" of the days, months and years ahead.
With every blessing,
Alan
A GUIDED MEDITATION FOR MAUNDY THURSDAY
Last year Trefor Williams developed and led A Guided Meditation on the Eucharist for Maundy Thursday, with two readers from our Parish: Shirley B and Evelyn G. It is approximately 37 minutes long.
During this Lent and for quite a bit longer, we have been deprived of the actual eucharist. This guided meditation is a way for us to get closer to God. It is in no way a substitute for the actual Eucharist. It is, however, something you can do on your own, taking as much time as you want.
You can look for the VIMEO link below, or click HERE
JANUARY - MARCH 2022 - REVENUE AND EXPENSES
JANUARY
Revenue $13,153.07
Expenses $11,284.43
NET INCOME +$1,868.64
FEBRUARY
Revenue $10,681.00
Expenses $17,464.98
NET LOSS -$6,783.98 (Includes replacement stolen computer $855.34)
MARCH
Revenue $11,879.82
Expenses $17,513.59
NET LOSS -$10,549.11 (includes new dishwasher & lap top $5,915.01)
HOLY WEEK ACTIVITIES . . .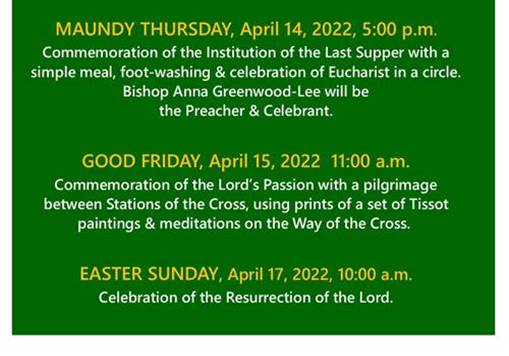 EASTER SATURDAY CHURCH DECORATING will take place on April 16 at 10am. Please bring flowers/greenery if possible.
And on EASTER SUNDAY, please bring a flower to decorate the cross.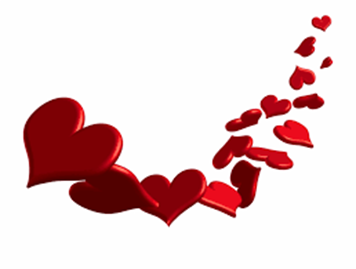 Below you will find the DISCERNING the HEART OF ST. MARY survey. Please complete the survey and bring to church or put in the drop box. There will also be copies available at the church on Sunday for your convenience.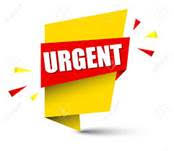 OUR READERS ROSTER needs some attention. . .
Many, thanks for those who have already signed up. Please sign up for the NEW roster at the entrance of the church.
Diocesan News - the April issue of Faith Tides is now available online
Faith Tides is the official publication of the Anglican diocese of Islands and Inlets. It is a space where people of faith and doubt can share their stories, challenge their perceptions, and grow together.
In this issue: More changes as Faith Tides unveils new download format (with images), Where God might be calling us next, The Friday we dare to call good, and more... For more information visit: https://faithtides.ca/