Note from the Rector
Monday evening I had dinner with a few good friends I have not seen for quite some time. These friends know that I am here at St. Mary's and in fact came here to my ordination in January and have watched my journey through seminary and discernment – so my being a priest is not news to them. However, when I mentioned having to go to work Tuesday morning one turned and said – "But don't you only work on Sundays?" Then yesterday, talking with another friend about her plans for Easter weekend, I mentioned I had services all weekend so wouldn't be able to go for a walk with her Friday morning. She became absolutely indignant! "What!? It's a statutory (STAT) holiday on Friday… don't they know that? They can't make you work on a STAT!" In both instances I laughed and attempted to explain but I'm not sure either of my friends were satisfied with the answers.
All that said, it is amazing how people outside of the church simply don't get it – how they struggle to understand what it is to be church and what this weekend before us really means both in terms of time, but also in terms of our faith. Tomorrow begins the Paschal Triduum or the Great Three Days - that begins with the liturgy on the evening of Maundy Thursday, reaches its high point in the Easter Vigil, and closes with the Eucharist on Easter Sunday. These are the most Holy of days, where we live out the passion of Christ and remember how love overcomes so much, even death on the cross. While some refer to the next few days as "Spiritual Bootcamp", in reality is a holy time of remembering, of walking through the valleys and rising again with Christ on the other side of death.
So even when the outside world doesn't understand what is we do, why we are busy on these STAT holidays – we know that this is our time to walk the way of Christ and come out rejoicing. May we walk together in holiness in the coming days, and be strengthened to share our faith in the wider world when faced with misunderstanding.
Blessings,
Kirsten +

Holy Week Activities
Thursday April 6 @ 5pm – Agape Meal and Maundy Thursday Service
Friday April 7 @ 11am – Stations of the Cross and time for prayer
Saturday April 8 @ 10am – Easter Sunday Church Decorating
Saturday April 8 @ 7:30pm – The Great Easter Vigil (at St. Paul's Nanaimo) NOTE: this will not be livestreamed
Sunday April 9 @ 10am – Easter Sunday, Flower cross and Baptism of baby Athena.
Please remember to bring flowers for the flower cross on Easter Sunday!
2023 FUNdraisers at St. Marys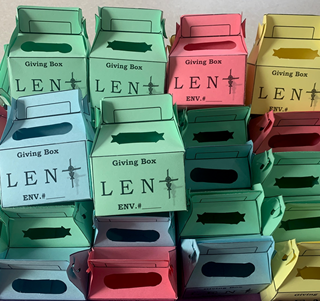 The little Lent Givings Boxes raised approximately $1,100.
The 'You've been EGGED' Easter campaign is now over!


Final totals are still being tallied. Stay tuned! A BIG thank you to the two bunnies…you know who you are…for pulling this together! I've heard from one of the bunnies how well received it was!
June Sale & Christmas Fair
Please start saving all your treasures. Contact Marrianna if you need more information.
Easter Video Message from the Bishop
Please click HERE to view. Blessings from Bishop Anna Greenwood-Lee.
The APRIL 2023 issue is now available. Please click HERE to view.
Faith Tides is the official publication of the Anglican Diocese of Islands and Inlets. It is a space where people of faith and doubt can share their stories, challenge their perceptions, and grow together. In this issue: Embracing the world by Bishop Anna; The Cost; Crucifixion Pillars at Christ Church Cathedral: A Fool's Journey to Easter — Trickster Jesus; and more!