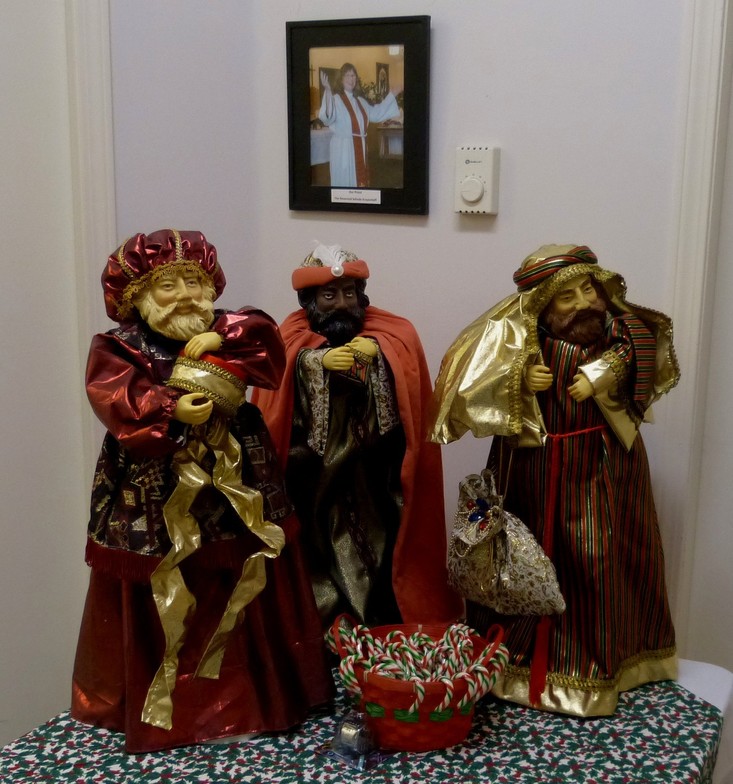 Happy New Year!!
HUB WEDNESDAY sign-up sheet is beside the rector's office. Please consider signing up.
THE ROSTER BOARD is there as well. Thanks to everyone who signed up and read for the Lessons and Carols!
OFFERTORY ENVELOPE USERS . As of now please use 2019 envelopes only. Please dispose of any 2018 envelopes you may have left over. Should you wish a set of envelopes for 2019 please contact me at 250-327-8153 or [email protected] Thank you Barb Williams
Coming up in January: Sunday – January 6 EPIPHANY – Come celebrate Epiphany during the 10am service and plan to stay for a free lunch and enjoy the leftovers from our Christmas dinner!|
Wed – January 9 at 12:30 FINANCE COMMITTEE meets after HUB Lunch.
Mon – January 14 1pm CARE TEAM MEETING in the library.
Tues – January 15 COMMUNITY KITCHEN – 10 am. A new program here at St. Mary's. Come and cook together to prepare soup for our HUB Lunches, contributions to the Community Dinner, and simple meals to take home with you. Does anyone have a bread maker that they no longer want? Please let Selinde know if you are planning on attending.
Sat – January 19 Workshop for parishioners who do PRAYERS OF THE PEOPLE, and, those who are READERS; for experienced and new people alike. Here at St. Mary's. Offered by the clergy from St. Mary's, St. Philip's, Lantzville and St. Paul's Nanaimo. 10am – 2pm. Lunch included. Check the poster in the Hall. Free, but please register with KAT in the front office by the 15th so we know how many people to prepare for.
Mon – January 21 COMMUNITY DINNER 4-6 pm. Yummy Roast beef and all the trimming!
Fri/Sat- January 25-26 MOVING FORWARD - a reconciliation event between First Nations and settler peoples of Vancouver Island offered by Hope Lutheran Church in Nanaimo. The KAIROS Blanket Exercise on Friday evening is well worth attending if that's all you're free to attend. For more information, Selinde has brochures and is planning on attending.
Sat – January 26 from 10am -2pm TUMAINI BOTTLE DRIVE. Save your bottles! Or bring them with you to church each Sunday. There is a container for them in the main entrance to the Hall. If you can help out, please let Val know. Thank you!
Someone donated a painting to St. Mary's that was done by a Canadian artist of some renown. Would you be interested in finding out how much it might be worth? And/or how to go about realizing a fair price for it (if it is worth something)? Please talk to Selinde if you would enjoy doing that kind of sleuth work.
Our AVM is fast approaching –Sunday February 17 after the 10am service. We have 3 positions to fill on Parish Council. If you are interested in learning more about serving in this capacity, please talk to Clair Davies, Elaine Cowan or Jean Russell.
The following is an excerpt from the daily devotional Selinde has been using for years now without tiring of it. The language may seem a bit odd but the message is always so encouraging and enlightening. The voice is God's. From God Calling: January 1: Between the Years I stand between the years. The Light of My Presence is flung across the year to come – the radiance of the Sun of Righteousness. Backward, over the past year, is My Shadow thrown, hiding trouble and sorrow and disappointment. Dwell not on the past – only on the present. Only use the past as the trees use My Sunlight to absorb it, to make from it in after days the warming fire – rays. So store only the blessings from Me, the Light of the World. Encourage yourselves by the thought of these. Bury every fear of the future, of poverty for those dear to you, of suffering, of loss. Bury all thoughts of unkindness and bitterness, all your dislikes, your resentments, your sense of failure, your disappointment in others and in yourselves, your gloom, your despondence, and let us leave them all buried, and go forward to a new and risen life. Remember that you must not see as the world sees. I hold the year in My Hands – in trust for you. But I shall guide you one day at a time. Leave the rest with Me. You must not anticipate the gift by fears or thoughts of the days ahead. And for each day I shall supply the wisdom and the strength.