Don't forget to adjust your clocks. You would NOT want to miss the service!
Note from the Rector
Last Sunday we had an Event Planning session after the service during coffee hour and boy were the ideas flying!!! By the time I got into the hall the board was covered with all sorts of wonderful ideas of things we could do this year to raise funds and FUN! After going through the all the ideas together we distilled our plans down to something a little more manageable that will still keep us hopping throughout the year.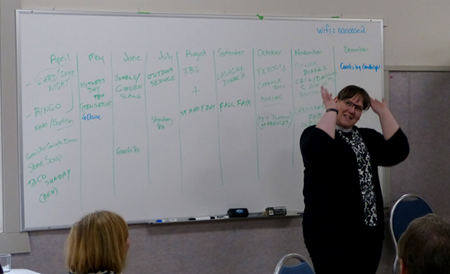 Now, we are still hammering out details for many of the events; some dates are tentative, some are missing and some still need a champion to come along side and make the event a reality. But here is where we stand right now!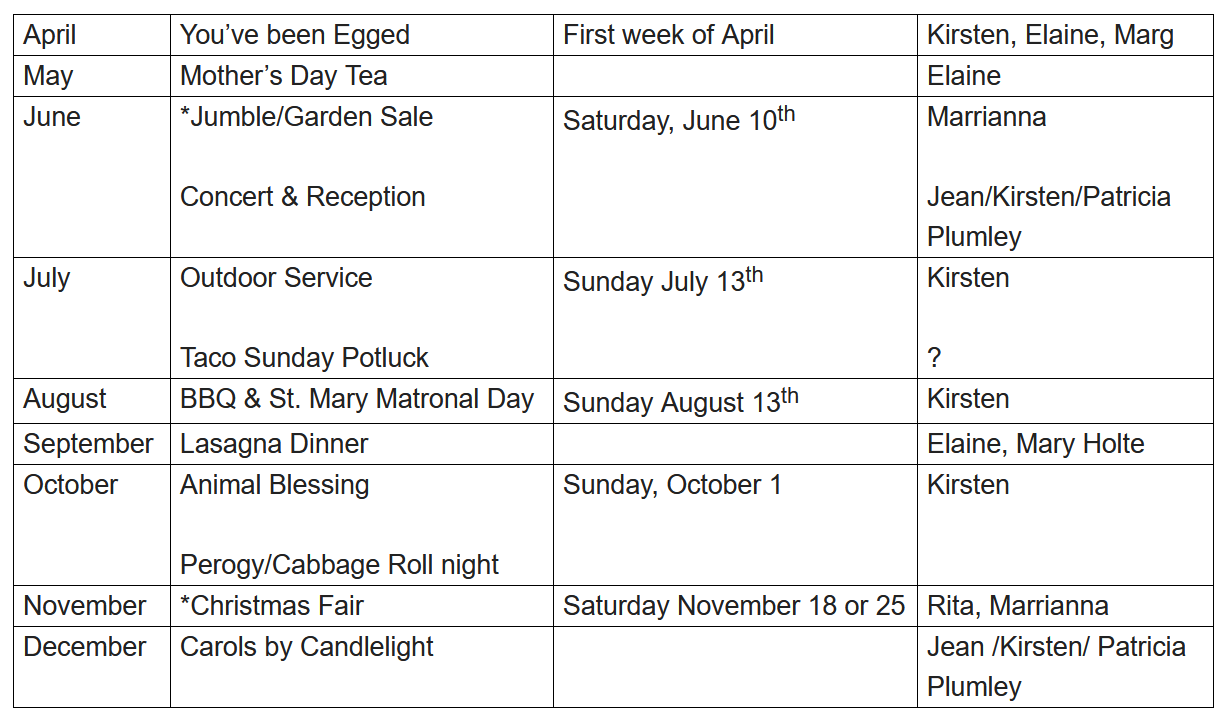 *Please start saving your treasures for the two upcoming sales, June Jumble & Christmas Fair. If you would like to help out with any of these events, please do not hesitate to reach out to myself, or one of the coordinators of the event. We are also still looking for someone to take on the Perogy/Cabbage Roll event, the Taco Sunday potluck in July and the August BBQ – so please give this some prayerful consideration and come and speak to me if you are feeling called to take these things on.
My thanks to Marrianna who got the conversation going while I was wrapping up things in the church, and for all who brought their ideas and enthusiasm forward as we continue to grow as community and engage again with the world and with one another after our COVID hibernation! I am so looking forward to seeing how God blesses us this coming year!
Peace and love,
Kirsten +
Kirsten Away From the Office
As announced on Sunday, I will be away from the office March 8-15th inclusively taking my education leave to focus some time on completing my Masters before the busyness of Holy Week comes about. I will not be with you Sunday March 12th but I am leaving you in the very capable hands of Rev. Deborah van der Goes on Sunday. Deborah is a retired Anglican priest at St. Philip Cedar, and I have known her for many years. Please make Deborah feel welcome and show her the hospitality that I know St. Mary's is so capable of and I will see you again when I return on Thursday March 16th.
Bible Study resumes Wednesday March 22 at 10:30am.
February 2023
Total Income $11,588
Total Expense $12,826
Net Loss (- $ 1,238)
New Photos of Parish Council
KAT will be updating the Parish Council photo board in the church entrance in the next few weeks. If anyone wants a new photo of themselves, please see KAT on any Sunday or stop by the church.
Other Events in Parksville
A DRIVE-THRU SHOWER for CROSSROADS Pregnancy Centre (a faith-based organization), is being held at the Catholic Church of Ascension at 887 Wembley Rd., Parkville on SATURDAY APRIL 1; 11-3pm. No need to get out of your car! Ages 6 month to 3 years and diapers 4, 5 & 6. Cash donations are always most welcome.