From the Rector's Desk
You may have read in the news that Canada and Denmark recently came to an agreement to resolve their long dispute over ownership of Hans Island. Situated in the dead centre of Nares Strait, 18 km from Greenland (part of Denmark) and 18 km from Ellesmere Island (part of Canada) the tiny island is about 1 x 1 sq. km. Over the years expeditions from each country have planted flags and left bottles of liquor (Danish schnapps and Canadian whisky) as statements of claim. To learn more about that you can google "Whisky Wars - a fifty year war in which no shots were fired."
With no minerals and little strategic importance, neither country can "use" the island except for symbolic presence. However, the island has always been a shared staging point for hunters from the Inuit people of Nunavut and Greenland. Their name for the island is Tartupaluk which means kidney. The agreement draws a border between the two countries along a ridge that runs up and down the middle of the island. Sensibly, there will be no walls or border crossing guards! In a time of invasions, violent wars and displacement of populations elsewhere in the world, this is a small example of how to resolve disagreements peacefully and with mutual respect.
The part I like about the story is its compromise. Concessions were given on both sides in which each gave up something that was desirable to them from the beginning, in order that peace may prevail. I think the spirit of compromise is a highly undervalued attribute. St. Paul wrote "Let your gentleness be known to everyone. The Lord is near. Do not worry about anything, but in everything by prayer and supplication with thanksgiving let your requests be made known to God. And the peace of God, which surpasses all understanding, will guard your hearts and your minds in Christ Jesus." (Philippians 4) Of course there are times when compromise is not a good strategy, especially when it involves matters of ethical principle. But in general a mutual readiness to concede something so that common ground can be reached, is the best way forward, especially if it is a way of avoiding deeper conflict or worse. Becoming dug in (dare I say obstinate?) in a particular argument or dispute usually leaves no winners. On the other hand a mutual spirit of gentleness and attentiveness to the needs of others, opens the door to a win-win compromise.
Well done Canada (and Denmark) - a good way to celebrate July 1st!
With every blessing,
Alan .
Office Coverage June/July
WHILE KAT IS IN THE UK, Darrell Bell and Bev Overton will be providing part-time office coverage Tuesdays and Thursdays, and Alan is in on Wednesdays. Thank you Darrell and Bev for volunteering your time! Alan will be away next week but messages left on the phone or email will be attended to.
The Wednesday Bible Study group will not meet in June and July. We will resume later in August.
MEMORIAL SERVICE FOR DAVID RUSSELL
This Saturday, July 2nd, 1:00 p.m. an outside service in the St. Mary Memorial Garden will take place. David's family have asked that no flowers be sent, rather please make a donation in his memory to St. Mary's Church (www.stmarynb.ca) or the Arrowsmith Health Care Society (https://arrowsmithlodge.ca/funding)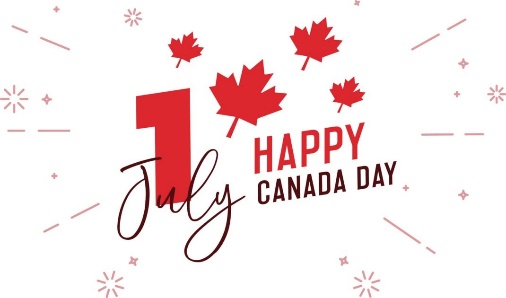 REMINDER! Please join us after Church this Sunday, July 3rd to celebrate Canada Day together. We will have a bring your own bag lunch picnic in the hall and will share a birthday cake together for dessert.
Save these dates too...
Two more social gatherings after the church service:

Sunday, August 14th - St. Mary Matronal festival ('make your own bunwich' lunch)
Sunday, October 9th - Thanksgiving pot-luck lunch
Check out these links for diocesan news and events:
https://www.bc.anglican.ca/news
https://www.bc.anglican.ca/events