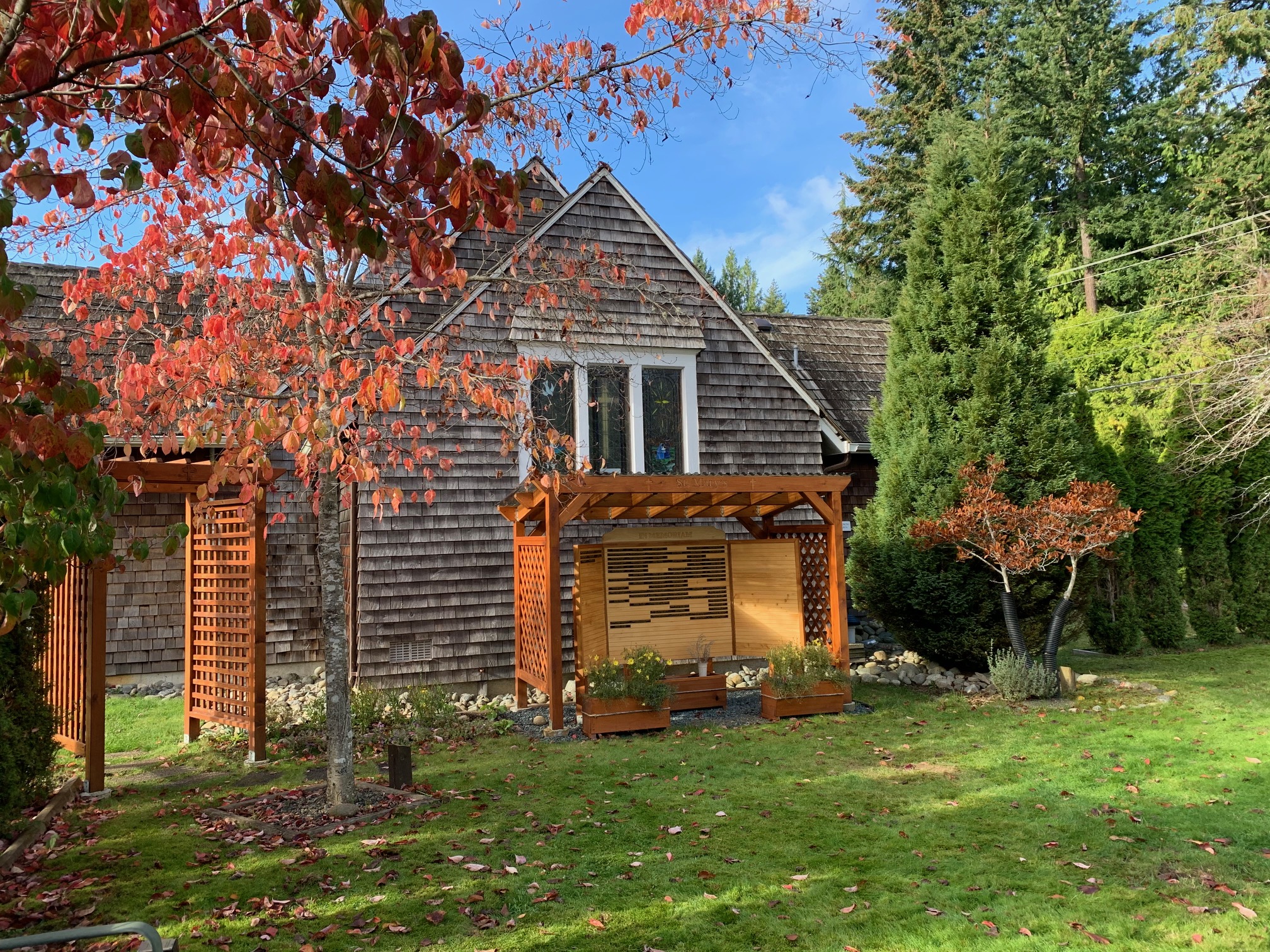 Nestled up against the church, the Memorial Garden at St. Mary's is a beautiful, peaceful garden where the cremains of people's loved ones are buried. A memorial board displays the names of the departed and there are benches and chairs for those who want to come and reflect. Call the office at (250) 468-5684 for information about purchasing a plot, and about burial and memorial services.
St. Mary Nanoose Bay Memorial Garden, recently licensed and then consecrated by Bishop Anna on January 15, 2022, was originally designed by Frank Fenn in 1996 and since then the surrounding shrub and flower gardens have been lovingly cared for by our parishioners. There is a lovely arch entrance to the Memorial Garden where people are welcome to come and sit. The ashes of 81 loved ones have been interred over the past 26 years and there are plots available for another 525.
In order to protect in perpetuity the interred remains, it became necessary to register the Memorial Garden. That process was started in 2016. The smallest parcel of land that could be registered on the title was 2.45 acres of the total 7.5 acres of church property which had been given to the Diocese in 1981 by LCol Jack Bagley. The Memorial Garden along with the church, hall, parking lot and septic field and property back to the railway are now registered as one lot in the Land Title Office and will always be considered part of the "cemetery".
To comply with the regulation that human and animal cremains cannot be interred on the same parcel of land, the subdivision of the 7 acres into 2 parcels allowed the establishment of the St. Francis Pet Memorial Garden in a corner of the nearly 5 acres of forest.
For information about Memorial Garden plots for cremains of deceased parishioners of the church and Nanoose community residents, please contact the church office. There is also the opportunity to pay for future Right Of Interment in the Memorial Garden.
Names of loved ones interred in the Garden are on the central panel of the Memorial Board. The left panel of the board is for the names of loved ones who are remembered, but not interred in the Garden. Purchase of memorial plaques must be arranged with the church office.
You are invited to come and visit the Memorial Garden any time. To view a gallery of photos of the Memorial Garden, click HERE.